It's not rare for people to get the wrong idea about having a website. There are many common myths about this industry. However, it doesn't have to be that way….
When was the last time you updated the software and the plugins of your website? Or, you had it checked by a specialist (like me)? The maintenance of your website…
Perhaps, you've just established a new business and need a new website. Or maybe you've been in business for a while and want to refresh it. Getting a new website…
Many business owners don't consider getting a website because they think it's costly, believe they don't need one or think that they don't have the time to manage it. However,…
Crafted by me © Damiano Fossa 2021 |
Credits
| P.IVA 04227260249
Services
Web Development - Web Design - SEO

Overview
Design and development of WE Factory website.
WE Factory is a digital platform and consultancy created by Veronica Fossa to help companies eat better, make teams more connected, and increase the quality of life at work.

The Process
I started working with my sister Veronica in 2014 when she launched the project. Initially, I built a website in WordPress from scratch.
Over the years, as her business strategy evolved (she decided to focus on concentrarsi on culinary experiences in the work environment), her needs changed. Veronica wanted more flexibility and autonomy with her site and her previous site couldn't accommodate that. I opted for a fully-customized WordPress theme that gives her the opportunity to independently add and remove content. Later on, we also added a blog and an e-commerce.
Veronica commissioned the rebranding to Danish illustrator and graphic designer Clara Ernst (we, then, worked together on the SOOP project). Clara designed the new logo and a series of illustrations that conveyed Veronica's business goals.
Together with Clara, we defined the new colors and fonts with a cool and fresh look tailored to WE Factory's market: tech companies, creative and digital agencies, co-working spaces, and SMEs.
In fall 2019, Veronica launched her new podcast, The Nourishing Workplace, and I added a new page on WE Factory's website.
Services
Web Development - Web Design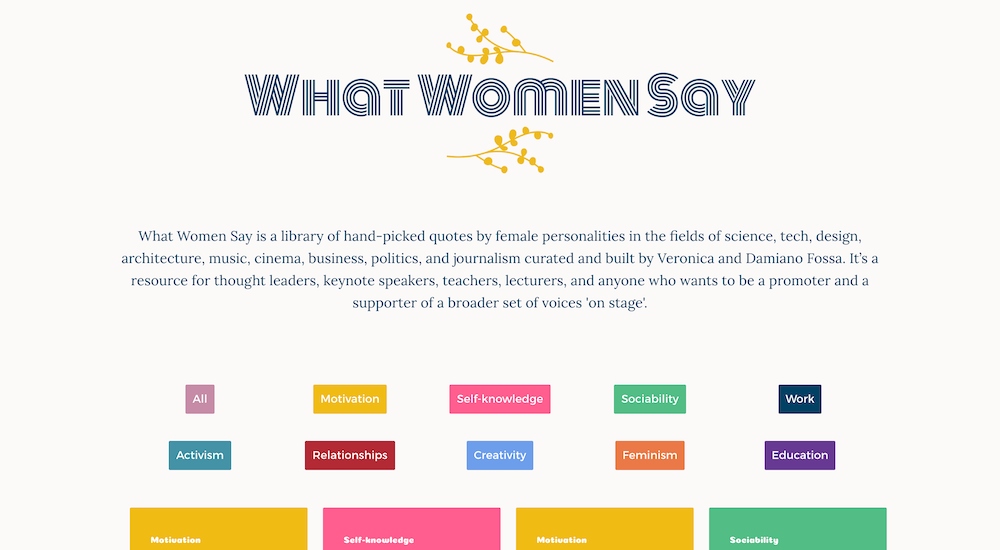 Overview
Design and development of What Women Say.
What Women Say is a collection of quotes by extraordinary women. We want to help thought-leaders, keynote speakers, teachers, lecturers, and anyone who wants to be a promoter and a supporter bring a broader set of voices on stage and paper.

The Process
What Women Say is a collection of quotes by extraordinary women helping thought-leaders, keynote speakers, teachers, lecturers, and anyone who wants to be a promoter and a supporter bring a broader set of voices on stage and paper.
After collecting several quotes by extraordinary women in a Trello board, we decided to collate them on their site and make it public.
Putting these quotes on their site allowed me to achieve a few goals:
The quotes would be easier to find and navigate
It would be easier to categorize them
The new site would include only quotes by women from my other writing
As a result, I stripped back all non-essential pages wherever possible. Aside from the home page, which includes the quotes, all of the other pages are either about, support, or contact. No fluff!
Early on in the design process, we selected the colours and fonts. The two colours making the logo are respectively yellow and denim blue. Yellow refers to the colour of the mimosa flower, a symbolic flower for International Women's Day in Italy. Denim blue is a reference to the working-class women who fought for equal rights.
We picked one colour per category so that the categorization would be clear. We wanted to convey a glamorous feeling, at the same time professional and not too girlish. For example, the colours of "Work" and "Creativity" categories are respectively blue and light blue, which refers to the office environment. "Motivation" and "Feminism" are respectively yellow (the same yellow in the logo) and orange, giving a more vibrant feeling.
The same logic was used to choose the fonts. The serif font used for the body text is called Lora, which is classic and elegant. The sans-serif font selected for headings is Montserrat, which is more playful and modern. A cursive font, Monoton, was used to make the quotation marks and the Category text more diverse. This combination of fonts and colours results make the website looking fresh, glamorous, and joyful.
The site uses CSS Grid for the layout, which encouraged me to experiment with layout options, particularly in the category and quotes list, on the homepage.
UX best practice states that users should expect to see the menu in the same place on each page of a site. I've spent some time thinking about the look of the menu. At first, I placed the navigation bar above the logo, but it was taking too much attention away from the logo. Eventually, I opted for a pop-up sidebar.
The result is a library of quotes by extraordinary women in one place. The quotes are divided into several categories such as Self-knowledge, Activism, Motivation, Education, Work, Sociability, Feminism, Creativity, and Relationship to make navigation easy Each single quote page allows to copy the content with a button, post the content on Twitter, and, if available, access the Wikipedia page of the author.
Logo design by Veronica Fossa.